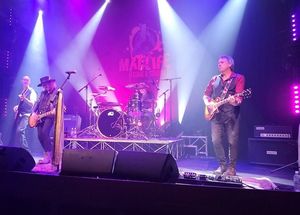 Press / Reviews
AudioVault Rocks! 
The band was awesome. Our New Year's Eve party was the best with AudioVault !! They were super accommodating with the song list and even surprised us with some of our favorites they learned just for our party!! You can't go wrong with these guys. And check out their local gigs, you will dance the night away!!
AudioVault played at a business event for us in June and it was fantastic.Excellent playlist, music and vocals. All age groups had a great time dancing and being entertained for two and a half hours straight. Everyone was commenting after about how much fun. AudioVault was the highlight of the party. We will for sure be booking again for our next event.
I had these guys play for a party I throw every year. Everyone loved their music... both the variety and jams. Other musicians at the party gave two thumbs up to AudioVault's talent. They were courteous and professional from load-in through load-out. I would highly recommend AudioVault for your private party or a gig at a club/bar. The crowd will not be disappointed.
Amazing professionals! AudioVault was an amazing team of professional musicians that put on a great show! They brought back the 90s!
Saw you guys for the first time Saturday night. I'm a working musician who has not seen a lot of good bands since moving to GA 4 years ago, but you guys were exceptional. Excellent musicianship, song choices and crowd interaction. Will definitely come see you play again!
Sample Song List
3 Doors Down Kryptonite 
AC/DCS hook me all night long 
Aerosmith Walk This Way 
Alice in Chains Man in the Box 
Beastie BoysF ight for your Right 
Better Than Ezra Good 
Billy Idol Mony Mony 
Billy Idol Rebel Yell 
Black Crowes Hard to Handle 
Black Crowes Jealous again 
Blink 182All the Small Things 
Blink 182What's my age again 
BlurSong 2 
Bon Jovi Wanted Dead or Alive 
Bryan Adams Summer of 69 
Bush Little Things 
BushMachinehead 
Cameo / KornWord Up / Doves Cry 
Collective SoulHeavy 
Collective SoulShine 
Def Leppard Pour Some Sugar 
Drivin' n Cryin' Straight to Hell 
Drivin' n Cryin' Fly Me Courageous 
Eve 6 Inside out 
Everclear Santa Monica 
Foo FightersLearn to Fly 
Foo Fighters Everlong 
Free All Right Now 
G n R Sweet child o mine 
Ga Satellites Hands to Yourself 
Gin Blossoms Hey Jealousy 
Goo Goo Dolls Slide 
Green Day Longview 
Green Day When I Come Around 
Harvey Danger Flagpole Sitta 
Jet Are You Gonna Be My Girl 
Jimmy Eats WorldThe Middle 
Led Zep Whole Lot of Love, Immigrant, Stairway 
Lit My Own Worst Enemy 
Live I Alone 
Local H Bound for the Floor 
Lynard Skynard Simple Man 
Lynard Skynard Sweet Home Alabama 
Matchbox 20 "3 AM" 
Meat Puppets Backwater 
Metallica Enter Sandman 

Micheal Jackson Billy Jean 
Motley Crue Smokin in the Boys room 
Ozzy Crazy Train 
Pearl Jam Evenflow 
Poison Every Rose Has Its Thorn 
PoisonTalk Dirty To Me 
PrincePurple Rain 
Puddle of MudShe Hates Me 
RamonesSedated 
Red Hot Chilli PeppersDani California 
Rick SpringfieldJessie Girl 
Rolling StonesHonky Tonk Women 
Rolling StonesGimee Shelter 
Seven Mary ThreeCumbersome 
Social DistortionRing of Fire 
Soul asylumRunaway Train 
Steppenwolf Born to be Wild 
STP Interstate Love Song 
STP Vasoline 
Stray Cats Rock this town 
SublimeWhat I Got 
The Killers Mr. Brightside 
The Refreshments Banditos 
Tom Petty American Girl 
Tommy Tutone Jenny, Jenny 
TonicIf You Could Only See 
Van Halen Ain't Talking Bout Love 
Velvet Revolver Slither 
Weezer Buddy Holly 
Weezer Hash Pipe 
Weezer Islands in the Sun 
White Zombie Thunderkiss 65 
Wild Cherry Funky Music
Social Media and Contacts